Web Design
Tagged:
The much anticipated Firefox 6 release is out. In keeping with its new Chrome-like strategy, Mozilla has done away with large, major releases and is instead releasing on a faster, more "agile" schedule, releases batches of features and improvements as they get fully baked.
So What's New?
Mozilla claims that Firefox 6 is 20% than Firefox 5. This is a nice speed boost.
The new JavaScript scratchpad (in Web Console). Yes, LISP fans, JavaScript now has a REPL. Awesome. This should prove to be a really nice tool for web developers.
Added support for EventSource (server-sent events). This API permits push notifications from the server in the form of DOM events.
A touch event for touch-sensitive screens.
Support for the latest draft of WebSockets.
The result of a media query string can be evaluated programmatically using the window.matchMedia() method.
Support for HMTL 5's progress element has been added.
Support for HTML 5's track element has been added.
A host of -moz-* CSS properties for styling progress bars, text decorations, and hyphens.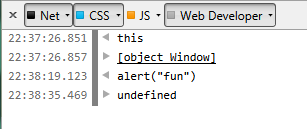 The release notes are here.
The new Visual WebGui Web Applications Framework version which was released today offers upgraded performance, scalability and complete developer and designer freedom to design and customize Web 2.0 UIs. Visual WebGui 6.4 beta 1 incorporates about 1,000 complete features either added or fixed from 6.3, including increased customizability with the new control level designer, theme designer and jQuery integration. The new version also includes 4 out-of-the-box skins for simple personalization of the UI look and feel. The new version improves WinForms compatibility and provides a much comprehensive set of events with upgrades to the DataGrid and ListView.
6.4 also presents runtime enhancements with improved performance, memory consumption and CPU usage as well as scalability. The improvement in 6.4 reaches the compatibility areas with greater browser support which covers almost the entire spectrum of prominent browsers in the market.
Visual WebGui SDK with integration into Visual Studio 2010 will be available by the time that a 6.4 release version is out.
As announced before a revised documentation and a new task oriented kit will be soon available for Visual WebGui developers. The kit which will demonstrate all of Visual WebGui's controls, features and concepts will allow a quick live view of all of the platform's components as well as a deep dive for more advanced developers in their work.
Tagged:
Visual WebGui version 6.3.11 released after the R&D team had a major breakthrough with a designer issue.
In addition, Visual WebGui 6.4 Preview 4 was released. This version presents an important progress as Preview 4 is the last Preview version of the 6.4 version. Visual WebGui 6.4 allows to take advantage of incredibly fast application development without sacrificing the essential flexibility and customization of designing from scratch.
"The Visual WebGui 6.4 preview version is another step towards simplifying and commoditizing complex Ajax web development . The ease of developing with Visual WebGui combined with the new efficient interface between developers and designers gives Visual WebGui an unparalleled advantage over other RIA development platforms. The market loves our solution and rewards us in its download and adoption rate," said Navot Peled, CEO and founder of Gizmox.
The release version of 6.4 is expected before the end of 2009.
Download Free Preview:
http://www.visualwebgui.com/tabid/639/Default.aspx
Free Downloads Here.
Tagged:
MyTimelineOnline is a unique blogging website featuring advanced controls that allows users to document their life, or the life of a loved one and to share their collective experiences within their social network and with the world. MyTimelineOnline features a control originally designed by MIT and converted to .NET by Rob Chartier. The timeline view allows users to quickly navigate several years' worth of postings to explore what events occurred in their own life or the lives of others.
The site was developed by a single individual and originally technologies such as Telerik were considered and discarded due to the complexity and cost. As a result, the entire site was rewritten by a single part time developer in Visual WebGui which provided a significant increase in the usability of the site as well as the visual style. Visual WebGui was chosen since it was extremely easy to use & develop with and it also allowed rewriting pages written in other Ajax solutions very quickly. Additionally, Visual WebGui allowed focusing on usability since the Visual WebGui themes took care of the rest.
Prior to upgrading the site to Visual WebGui the user experience was lacking, including repeating unnecessary page refreshes. "With VWG I was able to create a fully ajax'ed site quickly without worrying about the typical issues," founder John Ruf.
Visual WebGui is announcing that its rich Internet application platform can now enables customers to build and deploy applications to Microsoft's cloud computing environment, Windows Azure. Gizmox will demonstrate to customers and partners an extremely fast and low-cost method to port line of business (LOB) applications to the cloud using the Visual WebGui Cloud platform, at the WPC in New Orleans this week.
There is more information about the Visual WebGui platform as a cloud solution in the official press release. Click here.
Tagged:
Visual WebGui 6.3.8a was released today as a fix to the following v6.3.8 issues:
VWG-5087 - IE-Button: The right-side border should be rendered in the correct position
VWG-4256 - Button with 21x21 image should not crop image with button size of 25x25
VWG-5091 - OpenFileDialog non-Flash should not throw JS error (while calling parent.Upload_CloseWindow())
VWG-5092 - OpenFileDialog non-Flash should not hang when OK button pressed
VWG-5093 - OpenFileDialog in Flash mode should not throw JS error while Obscuring active
VWG-5090 - OpenFileDialog non-Flash should show frames around the buttons
Tagged:
Visual WebGui Web & Cloud platform version 6.3.8 was released today.
This is a further stabilization of 6.3.x that includes some resolved button behavior issues, as well as features such as Flash 10 uploading compatibility and the ability to configure a virtual directory.
The full v6.3.8 change log can be found here.
Gizmox released today a new version of the Visual WebGui Platform for Rich .NET AJAX applications.
Visual WebGui 6.3.7 is a further stabilization to the 6.3 pre-release version which adds support for wrapping of AJAX based controls into the Visual WebGui framework as well as support for additional languages.
The platform is available in free open source and free trial (commercial Professional Studio) versions.
All downloads are available for free here!
This is the Change log for 6.3.7:
Breaking Changes
----------------------------------------------------------------------------------------------
VWG-4746- Support for wrapping AJAX based controls added.
Bugs fix
----------------------------------------------------------------------------------------------
VWG-3930 - No control causes the designer window to open dirty - with a star marking changes.
VWG-4763 - VB form designer allows to edit ContextMenu items
VWG-4256 - Button with 21x21 image used tocrop image in a button with size of 25x25.
VWG-4204 - ListView RTL view fixed.
VWG-2599 - When browser is in offline mode a message is shown when the connection to the server is lost.
VWG-2976 - Focus indication on Checked list box focus.
VWG-4751 - Problem deleting SplitContainer contro from designer fixed.
VWG-4355 - Opening a TableLayoutPanel in designer used to automatically add rows.
VWG-4753 - Splitcontainer did not preserve splitter panels order.
VWG-4359 - When setting the CheckBoxes property to TRUE, the selection text used to disappear.
VWG-4309 - Casting safetly tests added in the resource browser dialog classes.
VWG-4344 - Support added for Iceland-Icelandic.
VWG-4403 - Support added for Brazil-Portuguese .
VWG-4311 - Support added for Portugal-Portuguese.
VWG-3792 - UniqueIdExtender renders CUID attribute at run-time - and it's now available in generated HTML code.
VWG-4211 - FCKEditor fixed .
VWG-4243 - TableLayOutPanel render problems fixed fixed.
VWG-4120 - TabControl should re-render on KeepConnceted requests fixed.
VWG-4752 - SplitterDistance property is now saved for the SplitContainer control.
VWG-4390 - TableLayoutPanel fixed to not corrupt layout when saving and reloading
VWG-4662 - Form.DockPadding fixed and wont make controls move on open+save form.
VWG-4483 - Buttons with Flat style text retain's it's location on mouse hover.
VWG-4260 - DateTimePicker with custom format will not change day part to undefined on second tabbing through the DTP control.
VWG-4246 - DataGridViewCell - allows placing typing cursor using mouse to edit contents
VWG-4371 - Tabbing through controls on a form tabstop on buttons with FlatStyle=Flat.
VWG-4244 - IE8 - Dialogs & MessageBoxes showing content.
VWG-4172 - IE8 - Rendering of labels fixed to look the same as in IE7 and FF3.
VWG-4340 - IE8 - Combobox rendering fixed.
Tagged:
Visual WebGui 6.4 Preview 1 is here and available to download for free!
The 6.4 Preview allows to experience the revolutionary web design tool providing ease of designing DHTML or Silverlight UI with no HTML, CSS or XAML coding, while using your design software of choice such as Photoshop and Expression Blend. This cutting-edge Point & Click Web Design Tool provides, for the first time, a complete coding-free cycle for the creation of complex, enterprise-grade web applications. 6.4 also allows to fully customize application themes using the new designer and by downloading and sharing complete VWG Themes.
"Microsoft is pleased to work with Visual WebGui to deliver the best computing experience to our customers," said Joe Marini, Director, Platform & Tools Ecosystem at Microsoft Corp. "The newly added features in Visual WebGui 6.4 preview offer developers a flexible way to brand and differentiate their UIs for internal and customer-facing applications."
The 6.4 Preview version is offered for free and available for evaluation in either Express Studio or Professional Studio. In the future the new design tools will be offered in the Express edition for free, under LGPL license, and in the Professional Studio version.
6.4 also presents new scalability extensions for redundancy and mulit-user SaaS/Cloud Computing level with performance enhancement and memory optimization.
Tagged:
A new interesting tool which allows forms, reports and charts to be created using a powerful WYSIWYG visual editor was developed atop the Visual WebGui .NET AJAX platform.
The tool is an automated environment (IDE) for developing web systems using the methodology DDD (Domain-Driven Development). Automato allows the creation of complex systems like ERP and CRM on a powerful Web applications platform for using the same concepts of desktop applications. This model maximizes the interactivity with the end-user and makes the systems more robust.
Unlike the current models of creating Web applications that require prior knowledge of various technologies (DHTML, JavaScript, CSS, etc.), creating rich interface applications (RIA) in Automato™ are automatically managed by a powerful platform which provides a harmonic development experience using a single technology. This dramatically reduces the time of creation, costs and learning curve.
Features Integrated :
1. Powerful Form Editor (WYSIWYG).
2. Multiple Database Support
3. Modeling Database from E/R Diagrams
4. Compare & Merge Databases Model
5. Unique Compare and Merge Applications
6. Source Control Management
7. Issue Tracking System / Project Management System