Google
Google recently released Google Health. The application makes it easy for users to keep track of their medical records. Along with releasing Google Health they have also released the Google Health Data API.
Below is an excerpt about the Google Health Data API.
The Google Health Data API allows client applications to view and send Health content in the form of Google Data API feeds. Your client application can use the Health Data API to create new medical records, request a list of medical records and query for medical records that match particular criteria.

Here are some of the things you can do with the Health Data API:

Upload patient medical records.
Get patient medical data and provide personalized functionality based on that data.

How do I start?

If you're new to the Google Health Data API, here's how we recommend you get started:
You can learn more about Google's Health Data API here.
I can see a lot of uses of this API for medical related mash-ups.
Michael Podrazik has written an interesting post on what the next App Engine Language will be. If you don't know about App Engine it currently supports Python and you can read more about it here.
Below is an excerpt from the post.
So how reasonable would it be to offer a hosted Java environment? While almost any hosting provider currently gives you the option of running PHP, lots of 'em give you Perl, etc. virtually nobody except boutique hosting providers let you run Java. There's a good reason for this. First of all, Java is an enterprisey language and the apps that use Java on the server side are not especially well suited to run in a shared environment. Secondly, even if the market existed, there are technical limitations that make running Java in a shared resource pool problematic. While you can chroot PHP to prevent people from accessing the shared, underlying filesystem, with Java you can spawn threads and do lots of other things that make implementing resource consumption quotas problematic. The fact that you can't just run a Java program using an Apache module or through CGI, and the fact that there tends to be a mismatch in the skill sets that *nix ops people usually have and the skill set required to effectively manage a Java app just further muddies the waters.

What you would really need is a customizable JVM that let a hosting provider limit what hosted apps are allowed to do. You may be able to do this with a locked down SecurityManager, but doing the kinds of things that Google is doing with the App Engine Python implementation would be even better. Not very many people have the chops to write their own VM. Google is one of them, and oh yeah, they've already sorta done it. Twice.

GWT is interesting in that you write your applications in Java with certain elements of the API stripped out and the compiler translates your code to JavaScript. Android apps are written in Java with certain elements of the API stripped out and the compiler translate your code to run in Dalvik. Why not do something like this for App Engine and make it a trifecta?

Google is pouring a lot of resources into Java lately and in a public way. Guice is getting lots of attention lately as a Spring competitor.
You can read the full post here.
So, the post predicts that the next App Engine Language will be Java. However, it predicts that the API will be limited. I would love to hear your thoughts on this prediction, so leave your thoughts in the comments.
With the recent addition of 10 languages to the Google AJAX Language API, we have published an update to TubeSpy that includes support for Bulgarian, Croatian, Czech, Danish, Finnish, Hindi, Norwegian, Polish, Romanian and Swedish.
TubeSpy, a recent addition to Ajaxonomy Labs, is a YouTube Spy allowing you to see what videos others are watching on YouTube right now! TubeSpy was built using jQuery, the YouTube API, and more recently, the Google AJAX Language API to add support for other languages.
You may have been reading a lot about Google Friend Connect, but aren't clear exactly how it works. Well, over at the Google Friend Connect blog they have explained exactly how it works.
Below is an excerpt from the post.
We figured you might be tracking the conversations about Google Friend Connect and Facebook. We want to help you understand a bit more about how it works on the Friend Connect side with respect to users' information.

People find the relationships they've built on social networks really valuable, and they want the option of bringing those friends with them elsewhere on the web. Google Friend Connect is designed to keep users fully in control of their information at all times. Users choose what social networks to link to their Friend Connect account. (They can just as easily unlink them.) We never handle passwords from other sites, we never store social graph data from other sites, and we never pass users' social network IDs to Friend Connected sites or applications.

The only user information that we pass from a social networking site to third-party applications is the user's public photo, and even that is under user control.

That's the high-level view. But what about the details? Here is more information on exactly how Friend Connect interacts with third-party social networks and applications.


Google Friend Connect puts users in control over whether they're connected to their data on Facebook.
Google Friend Connect only reads a small amount of user data from Facebook, and does so using Facebook's public APIs. We read the Facebook numeric id, friendly name, and public photo URLs of the user and their friends. We read no other information.
The only user information that we pass from Facebook to third-party applications is the URL of the user's public photo.
Google Friend Connect does not permanently store any user data retrieved from Facebook.
You can read the full post here.
This is very useful information as I know that I was about confused as to exactly how it worked when I first heard of it.
Later today Google will be launching a new service called Friend Connect. Read Write Web has written an interesting post about the new service raising some concerns.
Below is an excerpt from the post.
You Can't Use it Yet

While the whole developer and publisher world is anxiously awaiting details from the launch tonight, Google is putting a damper on adoption by limiting the Friend Connect "preview release" to a handful of white listed apps and a short list of selected websites. The company says it has to prove it can scale the infrastructure (ooh, can Google scale? I don't know, better limit the approved users to just a tiny handful!) and it wants to see what kinds of features developers and site owners want to request. Apparently the company believes this feedback is best done by making said parties look from the outside and send emails guessing about what they'd like to see once they are let inside. This seems completely backwards to me.

You Can't Touch What's Inside the Magic Box

Site owners will be able to add Open Social apps to their web pages - sort of. They'll be able to display them inside an iframe, a separate web page inside a webpage. They won't be able to leverage that user data to change what they deliver themselves to their users.

Apps in an iframe may as well be a social sidebar ala Flock or Yoono. Those collections of social apps are probably more useful anyway.

Conversations Are Complicated

Google made it clear during their press call that they are aiming for the easiest, simplest and safest way to enable social apps to be integrated into other websites. It will take less than six months, they promise.

Let's be clear that it's not going to be easy to figure out how to enable all this user data to be mashed up in acceptably safe ways. We asked Google how they can assume that one user's friends on IMeem have permission to access their info out on other sites around the web. They said that users will have to be given the option whether to expose that info to third party sites or not, something we haven't seen any details on yet from the original source social networks. That would be even more difficult if the destination sites had read, much less write, access to that ported-in social networking data.
You can read the full post here.
While the post raises some interesting concerns, I think that the service may turn out better than the post states. While I think the initial release of the service may have some issues, Google has a proven track record that bodes well for the service over time. We can only wait and see what happens.

TubeSpy, our YouTube application from Ajaxonomy Labs, now supports 11 new languages. By utilizing the Google Language API, TubeSpy is now able to dynamically change the language used in the application.
Languages now supported by TubeSpy include: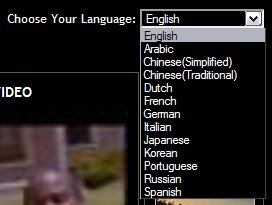 English
Arabic
Chinese
Dutch
French
German
Italian
Japanese
Korean
Portuguese
Russian
Spanish
Here's a sample in Russian: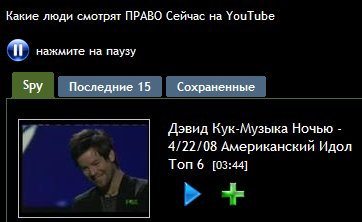 The app is still in beta, so be aware there may be some layout/formatting issues with the additional languages. In any case, please send us your comments, bugs, and feature requests.
Tagged:

Google's User Experience (UX) group has put together a list of 10 [high level] design principles that encompass what they call a "Googley" design. These principles represent their User Experience group's declaration of beliefs.
For your consideration, here are the ten principles:
1. Focus on people—their lives, their work, their dreams.
2. Every millisecond counts.
3. Simplicity is powerful.
4. Engage beginners and attract experts.
5. Dare to innovate.
6. Design for the world.
7. Plan for today's and tomorrow's business.
8. Delight the eye without distracting the mind.
9. Be worthy of people's trust.
10. Add a human touch.
For details on each principle, visit the Design Principles page on Google's corporate site.
If you are interested in making a cool Google Maps mash-up the Silicon Valley Google Technology User Group will be hosting a maps meeting. Michael Geary will be the primary speaker at the session. Michael created the Primary Election Results Map application and is very knowledgeable about making a Google Maps mash-up.
The event is April 2nd (so this coming Wednesday) and starts at 5:30pm with Michael speaking at 6:30pm. The event will be held at the Googleplex.
You can register for the event here and you can read more about the event here.
A few additions where made to the Google Maps Street Views. They have added quite a few metropolitan areas and a national park. The national park is what really interested me as it is quite fun to play with.
Below is the list of the new locations.
Albuquerque, NM
Anchorage, AK
Austin, TX
Cleveland, OH
Fairbanks, AK
Little Rock, AR
Madison, WI
Nashville, TN
Rockford, IL
Richmond, VA
Spokane, WA
St. Petersburg, FL
Tampa, FL
Yosemite National Park, CA
Taking a look at the famous El Capitan in Yosemite National Park can inspire (or intimidate!) you as you prepare for a hike:

View Larger Map
You can read more about the new additions here.
Google has also added the street view to the API, so now your maps mash-ups can include the street view feature. You can read more about the additions to the API here.
The street view is a great feature of Google Maps and it is great to see them continue to add new locations.
If you have worked on a website that you want to control what search engine bots do you probably know just how powerful the robot.txt file can be. Configuring the robot.txt is often a specialty skill as many web masters don't do much with the file. Well, Google has made it much easier to generate a robot.txt file with a Robot.txt Generator tool that is part of it's Webmaster Tools.

Below is an excerpt from the Google Webmaster Central post.
Once you're finished with the generator, feel free to test the effects of your new robots.txt file with our robots.txt analysis tool. When you're done, just save the generated file to the top level (root) directory of your site, and you're good to go. There are a couple of important things to keep in mind about robots.txt files:

* Not every search engine will support every extension to robots.txt files

The Robots.txt Generator creates files that Googlebot will understand, and most other major robots will understand them too. But it's possible that some robots won't understand all of the robots.txt features that the generator uses.

* Robots.txt is simply a request

Although it's highly unlikely from a major search engine, there are some unscrupulous robots that may ignore the contents of robots.txt and crawl blocked areas anyway. If you have sensitive content that you need to protect completely, you should put it behind password protection rather than relying on robots.txt.
You can read the full post here.
To go to the Webmaster Center click here.
Now you can use the Robot.txt Generator to make your site work better on Google and possibly enhance your search engine effectiveness. There are other similar tools available, but a tool from the makers of the most used search engine on the planet is definitely worth a look. If you use the tool I would love to hear your experience with it.