Google
Tagged:
Ext GWT, a library for integrating Ext JS with Google Web Toolkit, has released version 1.2. New features include Drag and Drop (with support for Grids, Trees, and Lists), Form Data Binding, and File Upload.
It can be downloaded here.
Hot on the heels of the JavaFX release, Google has released a beta version (of course, what else?) of its own browser plug-in for--get this--running native x86 code inside your browser. It's called, appropriately enough, Native Client. If your security alarm bells are going off, take some comfort: the code is sandboxed in order to prevent untrusted code from freely accessing your computer. How effective the "static analysis" that the sandbox performs is an open question, but Google for its part seems to have thought through the problem: code is disassembled and run through a rigorous analysis to detect unwanted interactions, e.g. file I/O. Nevertheless, it is unlikely to ever be as secure as running code inside a VM.
While Java aficionados may scoff at the idea of running non-portable code inside the browser, one has to admit that x86 clients are nearly universal, at least on the desktop. In the mobile arena that's anything but the case so Native Client has a very specific target audience: desktops that need absolute performance. If this fits the requirements of your browser-based application, Native Client may just be the ticket.
Today Salesforce.com has announced Force.com. This makes it possible to create Web and business applications that go accross both Salesforce.com and Google's cloud computing platforms.
Below is an except from the post.
This morning Salesforce.com announced Force.com for Google App Engine, a Python library for apps running on App Engine that enables simple and robust access to the Force.com Web services API. Using this library, App Engine developers can now build and deploy scalable web apps that manipulate and display data stored on Force.com. App Engine developers interested in building enterprise-class applications can now build anything from browser-based tools for members of your organization to personalized, customer-focused apps that scale to meet demand.
You can read the full post here.
You can learn more about Force.com here.
Tagged:
As Neal Gafter explained a while ago, there is a backdoor in Java's generic type erasure:

getClass().getGenericSuperclass()

Google Guice makes use of this backdoor to enable the construction of a generic type literal (or Super Type Token): its TypeLiteral class. Now (the soon to be released) Guice 2.0 goes a step further: it can inject a TypeLiteral into your class, thereby reifying your generic types (well, sort of). All the details of the changes to com.google.inject.InjectorImpl are here.
As Neal Gafter also explained, java.lang.reflect.Type really should be retrofitted. Until then, Guice offers you a little help.
Tagged:
jQuery has quickly become one of the most used JavaScript libraries around. Google Maps is possibly the most popular mapping website on the web. Wouldn't it be nice to connect the two easily using a small library? Well, jMaps is a library that does just that and version r64 has just been released.
Below is a rundown of the main features as posted on the jMaps Google Code page.
jMaps is a jQuery plugin that provides a really easy API to create and manage multiple google maps on any page.

Geocode and reverse any valid address in the world via Google's geocoding API
Search for directions to and from any location
Add and remove Markers
Add and remove polygons and polylines
Add and remove graphic layers on the map
Add and remove Google adsense layers
Add and remove Traffic layers
Get information back such as map center, map size, map type, etc
You can go to the Google Code page here.
Google has announced the introduction of some powerful visualizations for your server-side data. They have publicly documented the Google Visualization API's open-wire protocol (you can go to the documentation here). The API has been greatly expanded from when it first launched and can now expose server-side data, such as SQL databases and even Excel spreadsheets, and display this data through visualizations from their growing directory.
Below is an excerpt from the post.
To make it even easier for developers to get started, we have documented an open-source Python library that enables any Python developer to quickly start using the API. What we find particularly cool about this library is that it also runs on Google's AppEngine. You don't even need to be an owner of your own servers to expose your data: You can place it on AppEngine and use the Visualization API to expose your data in meaningful, insightful ways in dashboards and reports. Expect to see additional server-side tools for the Visualization API in the near future.
You can read the full post here.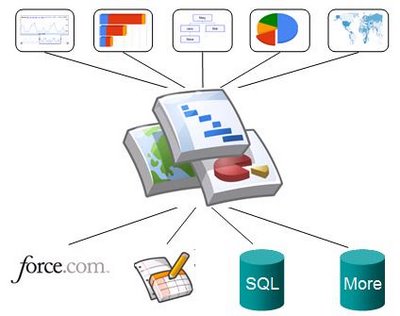 Tagged:
For those following dependency injection frameworks in Java, Google Guice has released its beta snapshot (stamped 2008-10-16) for Guice 2.0.
What's coming in Guice 2.0?
A tree-like structure for Injectors, i.e., an Injector can have children that inherit all of its bindings.
An introspection API: like reflection but for Guice bindings.
The ability to inject members of sets and maps using Multibinder and MapBinder respectively.
Private modules.
Pluggable type converters that convert constant string bindings to other types, i.e., Dates, URLs, etc.
And more...
The official word is now that Guice 2.0 will be released in Fall 2008. (The Id Software release schedule: it'll be done when it's done!)
In the heady days of the mid-1990's, a company called Netscape Communications Inc. rode the wave of the emerging Internet excitement to technology stardom. With its flagship product, Netscape Navigator, controlling over 90% of the web browser market and a stock price that reflected that, the company seemed destined for greatness...but, alas, dreams can disappear quickly in the tech industry, and Netscape's dream was a particularly brutal example. Microsoft, sensing an opportunity in the emerging Internet as well as a potential threat to its mainstay desktop business, launched itself into the browser market in late 1995 with the release of Internet Explorer 1.0 (for Windows 95), based on code licensed from Mosaic. The first browser war had started in earnest.
The WebKit browser project, upon which the Google Chrome and Apple Safari browsers are based, has just announced that their browser has become the first browser to pass all of the Acid 3 tests.
The third revision of the Acid tests, promoted by the Web Standards Project as a way of ensuring browser compatbility with web standards, includes tests of the following standards:
DOM2: Core, Events, HTML, Range, Style, Traversal, Views
ECMAScript
HTML4
HTTP
Media Queries
Selectors (:lang, :nth-child(), combinators, dynamic changes, …)
XHTML 1.0
CSS2 (@font-face)
CSS2.1 ('inline-block', 'pre-wrap', parsing…)
CSS3 Color (rgba(), hsla(), …), UI ('cursor')
data: URIs
SVG
The Acid 3-passing version of WebKit is available as a download of the nightly build.
Over at Read Write Web they have written a very interesting post about Google. They ask a great question, Is Google Spreading Itself Too Thin? This is a very interesting question as in recent years Google has expanded way beyond search.
Below is an excerpt from the post.
What About Chrome?

Chrome showed Google's brand power in the market. A pretty geeky story (better performance and sandbox security for plug-ins) got tremendous traction in the media and prompted people who had never even made the jump from Explorer to Firefox to look at Chrome.

But it is very hard to see any strategic advantage for Google in splintering the browser market even further. Surely their interest lies in making sure Firefox gains against Explorer? Why not simply continue helping Mozilla?

This looks like an engineering project (yes, a very cool engineering project) that got out to market with a "oh, well, why not, seems a shame to throw it away" rationale.

Has Boredom Become an Issue Inside the Googleplex?

It is almost as if Google is bored. The cash just keeps rolling in. How do they exercise those amazing minds? This is not an uncommon problem. My first job was with a small publishing company in London that had one amazing cash cow and lots of "loss leaders". I naively asked one of the owners why he did this, why not just have the cash cow? He thought for a while and said "well, what would I do every day?"
You can read the full post here.
So, let me know your thoughts, Is Google Spreading Itself Too Thin?