Browsers
Tagged:
The much anticipated Firefox 6 release is out. In keeping with its new Chrome-like strategy, Mozilla has done away with large, major releases and is instead releasing on a faster, more "agile" schedule, releases batches of features and improvements as they get fully baked.
So What's New?
Mozilla claims that Firefox 6 is 20% than Firefox 5. This is a nice speed boost.
The new JavaScript scratchpad (in Web Console). Yes, LISP fans, JavaScript now has a REPL. Awesome. This should prove to be a really nice tool for web developers.
Added support for EventSource (server-sent events). This API permits push notifications from the server in the form of DOM events.
A touch event for touch-sensitive screens.
Support for the latest draft of WebSockets.
The result of a media query string can be evaluated programmatically using the window.matchMedia() method.
Support for HMTL 5's progress element has been added.
Support for HTML 5's track element has been added.
A host of -moz-* CSS properties for styling progress bars, text decorations, and hyphens.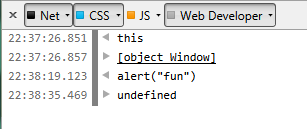 The release notes are here.
More information about Internet Explorer 9 is being released and it appears that it will be a huge leap forward from IE8. IE 9 will have much better support for CSS, especially CSS 3. This will help all web developers make much better page designs with less browser issues (at least if you don't need to make it backwards compatible to IE 8 and IE 7).
It is great to finally see Microsoft really working on a better standards supporting browser (hopefully all of this actually makes it to the final release).
You can view the table of CSS compatibility here.
Tagged:
Visual WebGui version 6.3.11 released after the R&D team had a major breakthrough with a designer issue.
In addition, Visual WebGui 6.4 Preview 4 was released. This version presents an important progress as Preview 4 is the last Preview version of the 6.4 version. Visual WebGui 6.4 allows to take advantage of incredibly fast application development without sacrificing the essential flexibility and customization of designing from scratch.
"The Visual WebGui 6.4 preview version is another step towards simplifying and commoditizing complex Ajax web development . The ease of developing with Visual WebGui combined with the new efficient interface between developers and designers gives Visual WebGui an unparalleled advantage over other RIA development platforms. The market loves our solution and rewards us in its download and adoption rate," said Navot Peled, CEO and founder of Gizmox.
The release version of 6.4 is expected before the end of 2009.
Download Free Preview:
http://www.visualwebgui.com/tabid/639/Default.aspx
Free Downloads Here.
Gizmox released today a new version of the Visual WebGui Platform for Rich .NET AJAX applications.
Visual WebGui 6.3.7 is a further stabilization to the 6.3 pre-release version which adds support for wrapping of AJAX based controls into the Visual WebGui framework as well as support for additional languages.
The platform is available in free open source and free trial (commercial Professional Studio) versions.
All downloads are available for free here!
This is the Change log for 6.3.7:
Breaking Changes
----------------------------------------------------------------------------------------------
VWG-4746- Support for wrapping AJAX based controls added.
Bugs fix
----------------------------------------------------------------------------------------------
VWG-3930 - No control causes the designer window to open dirty - with a star marking changes.
VWG-4763 - VB form designer allows to edit ContextMenu items
VWG-4256 - Button with 21x21 image used tocrop image in a button with size of 25x25.
VWG-4204 - ListView RTL view fixed.
VWG-2599 - When browser is in offline mode a message is shown when the connection to the server is lost.
VWG-2976 - Focus indication on Checked list box focus.
VWG-4751 - Problem deleting SplitContainer contro from designer fixed.
VWG-4355 - Opening a TableLayoutPanel in designer used to automatically add rows.
VWG-4753 - Splitcontainer did not preserve splitter panels order.
VWG-4359 - When setting the CheckBoxes property to TRUE, the selection text used to disappear.
VWG-4309 - Casting safetly tests added in the resource browser dialog classes.
VWG-4344 - Support added for Iceland-Icelandic.
VWG-4403 - Support added for Brazil-Portuguese .
VWG-4311 - Support added for Portugal-Portuguese.
VWG-3792 - UniqueIdExtender renders CUID attribute at run-time - and it's now available in generated HTML code.
VWG-4211 - FCKEditor fixed .
VWG-4243 - TableLayOutPanel render problems fixed fixed.
VWG-4120 - TabControl should re-render on KeepConnceted requests fixed.
VWG-4752 - SplitterDistance property is now saved for the SplitContainer control.
VWG-4390 - TableLayoutPanel fixed to not corrupt layout when saving and reloading
VWG-4662 - Form.DockPadding fixed and wont make controls move on open+save form.
VWG-4483 - Buttons with Flat style text retain's it's location on mouse hover.
VWG-4260 - DateTimePicker with custom format will not change day part to undefined on second tabbing through the DTP control.
VWG-4246 - DataGridViewCell - allows placing typing cursor using mouse to edit contents
VWG-4371 - Tabbing through controls on a form tabstop on buttons with FlatStyle=Flat.
VWG-4244 - IE8 - Dialogs & MessageBoxes showing content.
VWG-4172 - IE8 - Rendering of labels fixed to look the same as in IE7 and FF3.
VWG-4340 - IE8 - Combobox rendering fixed.
Plugins and extensions for Google Chrome have arrived. As of developer build 2.0.180.0 of Chrome, the browser is now extensible. A page showing how to create extensions recently went up on the Chromium project documentation site as well as some samples--including a Gmail checker. A recent developer release is required to try out the functionality.
The main document page for Chrome extensions is here. Support for extensions is still very early stage, so they are not yet ready for general consumption.
Today I ran across a cool 3D world terrain texture map demo. The demo is made using Canvas 2D with the 3D code written in JavaScript. The demo runs in Firefox 3, Safari 3 and Chrome. This got me thinking about the future of the web and if we will see a lot of 3D on the web.
Mozilla is working on a Canvas 3D plug-in to ship with a future version of Firefox what will be using a simplified version of OpenGL. The hope is that some cool apps will be made using this plug-in and that will force other browsers to use some form of Canvas 3D (and eventually adhere to standards). So, if some very cool on-line game or useful charting application is made in 3D it is possible that we will be coming up with some interesting 3D user interfaces using Canvas 3D in the future (hopefully in the near future).
This brings up the question of what would you use 3D on the web to do? Do you think it would be useful or just fun? The answers to these questions could shape the future of the web.
You can see the demo here.
Tagged:
Explorer Canvas, otherwise known as the little JavaScript library that allows you to use VML while still coding in HTML 5 Canvas (thank heaven), has released the third version of the library. The major reason for the release is compatibility with Internet Explorer 8, but there are numerous other bug fixes and improvements in the release. A comprehensive list of changes is here.
You can download the new release here.
Microsoft has officially released Internet Explorer 8. New features in this release include:
Native support for JSON
Improved standards support
Faster than IE 7
Improved developer tools, including (finally) an integrated JavaScript debugger
The address bar also functions as a search bar, a la Google Chrome
Accelerators: mini-mashups for your browser
Web slices allows you to retrieve information from a web page without actively visiting it.
Private browsing, similar to Firefox and Chrome
The SmartScreen Filter, which helps to protect against malware, phishing, and cross-site scripting.
On the downside IE 8 is the only current browser that fails the Acid 3 test. It is also one of the slowest browsers out there.
Previous coverage on IE 8:
You can download it here, or wait for it to become available via the Windows Update service.
Google has released the 2.0 beta version of its Webkit-based browser, Chrome. The new release features:
25-35% faster JavaScript performance for Google's V8 engine
Form autofill
Bookmark sorting
Autoscrolling
Full-screen mode
A new way to drag tabs in order to get a "side by side" view
Mouse gestures for resizing windows
Limited Greasemonkey support
Like its cousin Safari, the new Chrome browser should also be Acid 3 compliant since it is built using a much more recent version of Webkit (Chrome 1.x is not). You can download the new beta here.
UPDATE: Actually, Chrome 2 (build 2.0.169.1) scores 98/100 on Acid 3. Close, but not yet.
Tagged:
Gizmox released Visual WebGui RIA Platform/Framework developement environments' version 6.3.1.
This is a stabilization of 6.3 and another step towards a release version. The new version brings a significant enhancement in cross-browser support with full compatibility for Netscape and added support for popular browser like Chrome, Safari and Opera.
All 6.3.1 downloads can be found here.
This is the change log for version 6.3.1
Change log
VWG-4038 - Browser support added (alpha level) for Chrome, Safari and Opera.
Netscape is fully supported.
VWG-3820 - Users can now install any of the VWG installations only if they have Administrator permissions on that machine.
Bugs fix
VWG-4030 - TextBox with databinding was not updated when bound datasource changed from field with data to empty.
VWG-3976 - ContextMenu was not shown in FireFox.
VWG-2913 - When image was larger than PictureBox and set to Zoom it did not rendered properly.
VWG-3718 - ComboBox displayied the word null when item was blank.
VWG-3944 - Databound DataGridView bug when entering value of first column in newly added row fixed.
VWG-3963 - ListBox did not fire Click event in FF3.
VWG-3877 - Combobox dropdown is opend on enter with tab and not on leave.
VWG-3958 - ScheduleBox WorkEndHour property setter fixed.
VWG-3901 - TableAdapters and DataSets are shown on component tray (bottom of designer).
VWG-3830 - Dragging scroller above controls which contains editable IFrames in FF fixed.
VWG-3938 - Navigation keys did not function in text boxes under FF.
VWG-3816 - Focus transfer from bound TextBox to Button doesn't work on Tab key press fixed.
VWG-3898 - When opening a ComboBox dropDown the scrollBar covered the text on the left.
VWG-3825 - VWG Documentation registration fixed.
VWG-3887 - MouseEventArgs.X and Y in ListView MouseDown event are not set with true value.
VWG-3886 - ListView.Click events SelectedItem is set now to the right item.
VWG-3792 - UniqueIdExtender is availble in design time and the CUID is available in generated HTML code.
VWG-3890 - In 'Add Inherited Control' wizard, WebGui.Forms Assembly controls were missing.
VWG-3832 - Tab pages images design time bug fixed.
VWG-3818 - Label Text was cut and did not go to next line for labels with defined width.
VWG-3847,3841 - DataGridview - add new row to a Binded DataGridView throw an Exception.
VWG-3849 - TextBox.Text == string.Empty problem fixed.
VWG-3845 - Watermark textbox throw a JS error on focus in IE.
VWG-3885 -OpenFileDialog did not fire FileOK event in FF3.
VWG-3826 - Standalone .CHM fixed and used as a standalone help file.
VWG-3838 - SplitContainer did not retain it's SplitterDistance when form was saved.
VWG-1996 - Timer intervals bug after opening dialog window fixed