Blogs
You may have seen quite a bit about the new Google Chart API, but you may not have seen a real world example. In the recent release of the Digg Bury Recorder I got some first hand practice in using th Google Chart API. When developing the application I found a few interesting nuances and knowledge of these could help you in using the API in your applications.
One of the most interesting things that I found is that the charting always graphs on a 100x100 basis starting at 0,0. This presented some issues in our application as it needed to graph things like 25 buries and 1200 diggs. The way that I solved this issue was to find the greatest number on each axis and take 100 divided by the greatest number from the points on each axis. Once you get this number you multiply each point it by the appropriate scaler for each axis (although it may not work correctly with points that are less than zero and you would have to adjust the equation to work around that).
The below is an example of an URL that would be used to create a line chart (this is taken directly from the Digg Bury Recorder).
http://chart.apis.google.com/chart?chs=300x225&chd=t:9,16,51,51,51,52,58,59,61,62,63,67,69,69,69,72,74,74,89,93,96,98,100,100|4,8,12,16,20,25,29,33,37,41,45,50,54,58,62,66,70,75,79,83,87,91,95,100&cht=lxy&chxt=x,y&chxr=0,0,155|1,0,24
The parts of this URL that I would like to point out are below:
chxr=0,0,155|1,0,24 - This builds the markers of the graph (in our application I used the greatest value for each axis)
&cht=lxy - This specifies an X, Y line chart that uses actual points (if you look at the Google Chart API documentation you will see that most examples use helloworld as the points, as each letter has a numeric value, but I prefer to just pass in numbers)

chd=t:9,16,51,51,51,52,58,59,61,62,63,67,69,69,69,72,74,74,89,93,96,98,100,100|4,8,12,16,20,25,29,33,37,41,45,50,54,58,62,66,70,75,79,83,87,91,95,100 

- This is a list of all the points (scaled as I mentioned before). It is important to note that a | is used to separate each axis.
The above Google Chart API URL will result in the below graph.

So now that you've seen my real world example you can check out the official Google Chart API documentation here.
If you make any cool applications using the Google Chart API let us know about it in the comments or you can blog about it on this blog when you sign up for a free account. If your post is considered interesting by the administrators of this site it will appear on the home page, otherwise it will be on your personal blog and under the blogs link.
Tagged:
Cuong Tham over at Code Central created a YUI based Lightbox library and has just released the final version. For those of you unfamiliar with Lightbox, check this out.
What's New in this release?
The most significant change in this version of the lightbox is that image thumbnails are no longer required for creating lightbox instance. That implies that you can create an image gallery without the presence of image thumbnails. The more exciting aspect of this new feature is that you can virtually grab any image from the internet and include it in your gallery.

Below is the detailed list:

* Ability to view full size and auto-fit version of the image
* Settings for changing background mask opacity and color
* keyboard shortcuts
* Tooltip panel for displaying extra information
* Navigation control toolbar
* Image transition effect
* External stylesheet for styling

Bug Fixes

* Fixed image goes outside of viewport bug
* Removed extra scrollbar when the image can be fit into the viewport

The lightbox has been tested in Firefox 2.0.0.6, IE 7, Opera 9.21.
Check out a demo with thumbnails and without thumbnails [I recommend the black or the white theme as they look best].
One thing to note is that this is a hefty Lightbox implementation, weighing it at around 63KB for all required JavaScript files whereas the original Lightbox library only required about 13KB of JavaScript. That's a high price to pay for a cool gallery. But nevertheless, thanks to Code Central for putting this out, it's nice to see the differences in their implementation. If nothing else, you can download their source and play with it in your sandbox.
Click here to read the full article and download the source code.
Tagged:
Just when you thought you've heard everything, here's a reason to go buy that expensive car stereo system you've always wanted, you can blast this as you cruise.
I'm so sick, ajax, JavaScript
Flex power when I point my pen
This is a hip hop / rap song about all things IT, web 2.0, computer software, you name it... Must be one-of-a-kind, although this song may start a revolution and change the face of hip hop.
By
TT
- Posted on January 4th, 2008
Need to accept email in your web application? Check out Email2HTTP.
You can write simple scripts in languages like PHP and immediately start accepting email in your web apps. Build features like craigslist's anonymous email addresses, TripIt's itinerary gathering, Flickr & Google Docs email uploads, etc. in no time.
Hope to see you there,
TT
Sample PHP script to handle an email & send a reply: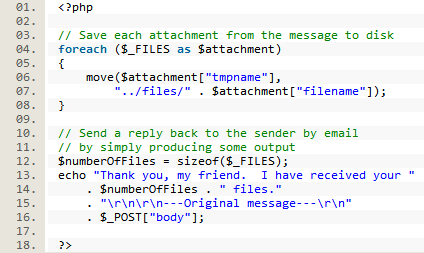 Tagged:
Video of the "Conversation with Josh Bloch" from Pearson Education's Voices That Matter: Google Web Toolkit 2007 conference.
Josh Bloch is the Chief Java Architect at Google. Previously he was a Distinguished Engineer at Sun Microsystems and a Senior Systems Designer at Transarc. He led the design and implementation of numerous Java platform features, including the JDK 5.0 language enhancements and the Java Collections Framework. He holds a Ph.D. in Computer Science from Carnegie-Mellon University and a B.S. in Computer Science from Columbia University.
Check out more session videos and presentation slides from the conference.
Tagged:
New today from script.aculo.us:
This is a bugfix release that bumps script.aculo.us to version 1.8.1. Also included in this release is Prototype 1.6.0.1 beta.

Mainly, this release contains some important bug fixes and optimizations in Prototype, fixes cursor keys in autocompleting text fields for IE and Safari plus fixes an issue with Effect.Morph on IE.
In case you haven't heard of script.aculo.us, it's a JavaScript library built on the Prototype JavaScript Framework, providing dynamic visual effects and user interface elements via the Document Object Model. script.aculo.us includes an animation framework, drag and drop, Ajax controls, DOM utilities, and unit testing.
You can download this latest release at http://script.aculo.us/downloads
We are proud to announce the release of Ajaxonomy's Digg Bury Recorder version Beta 0.2. This new release has a number of new features and fixes some issues that occurred with version Beta 0.1. Below is the list of new features and bug fixes.
New Features
Captures all buries for all stories
Graphs diggs to buries
Big Fixes
Recorder not capturing all buries
The first new feature above is one of my favorites. The tool now captures buries from all stories posted to Digg. The great thing is that you no longer have to leave the application running over night and you won't miss a bury because the application was not started!
The second feature shows a graph of diggs and buries. So, now you can see a graph showing how many diggs you had at the time of each bury. This was created using Google's Chart API.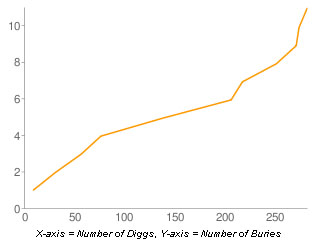 For fixes this release fixes a bug that was causing some buries to not be captured. This was due to server delays and browser issues. The fix has been tested and appears to be working, but if you notice an issue contact us using the Contact button on this blog.
Well, that is a run down of the new features and fixes with this release, so please let us know of any bugs you find. Also, if you find any interesting information using the tool you can sign up for a free account on this blog and write a post like this one that has a chance to appear on the home page of Ajaxonomy.com (a.k.a. this blog).
In case you don't have the link to application click here to be taken to the application.
Update:
It has been pointed out that the application does not capture 100% of Digg bury data. It does capture 100% of Digg Spy's bury data, which captures all buries for upcoming and popular stories. However, it does not capture buries from stories that have been fully buried as these can no longer make the Digg home or popular pages. So the tool will show you the buries that matter (the buries that keep you off the home page).
Thanks to everyone that pointed out this clarification.
Tagged:
The folks over at Dynamic Drive have put together a nice ajax based pagination script that lets you draw content from multiple pages and display them on demand, using Ajax. Pagination links are automatically created, with each page downloaded only when requested (speeding up delivery and saving on bandwidth. An overview of this script now: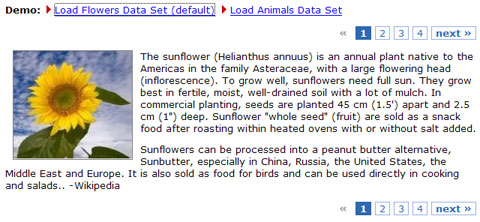 The pagination interface for each Ajax Pagination instance is "free floating", meaning it can be positioned
anywhere on the page and repeated multiple times as well.
Each page within the paginated content is fetched individually and only
when requested for sake of efficiency.
The settings for each Ajax Pagination instance is stored neatly in a
variable object for ease of portability. This variable can be manually
defined or easily dynamically written out based on information returned from
the sever, such as via PHP/ MySQL.
The entire paginated content can be refreshed with new data on demand,
with the pagination links updated automatically as well.

This script is ideal for showing multi-page content such as
"user comments" without reloading the rest of the page each time a
comment page is requested.
Click here to visit the site and to download the script.
Dynamic Drive also has a Virtual Pagination Script that lets you "transform long content on your page into a series of virtual pages, browseable via pagination links. The broken up content pieces are separated simply via arbitrary DIVs (or another block level element of your choice) with a shared class name." Read the full post on the Virtual Pagination Script
Let us know your experience with the Ajax Pagination Script or with any other pagination script you've worked with.
Tagged:
Philippe Maegerman has created a JavaScript animation engine for motion tweening similar to what's available in Flash through Actionscript. The library includes the following classes:
Tween class
Tween.js is the base animation class
ColorTween class
ColorTween.js extends the Tween.js class, its purpose is to manage transitions between two colors.
OpacityTween class
OpacityTween.js extends the Tween.js class, its purpose is to manage opacity transitions on visual objects.
TextTween class
TextTween.js extends the Tween.js class, its purpose is to manage text effects.
Sequence class
The sequence.js class allows you to chain Tweens, it means that the Tweens that have been added via the 'addChild()' method will be executed in the sequence they have been added.
His blog includes documentation as well as working examples and sample code displaying the functionality of the library, including the Webber 2.0 Dock Menu Tutorial.
Full source code is also made available for download on the site.
If you're looking for something a little more heavy duty that comes with features other than just animation, then you probably want to check out one of the major JavaScript Frameworks that include animation support:
Please share your comments and experiences with JavaScript animation, these frameworks, or another framework with animation support not listed here.
I just finished viewing Joshua Bloch's talk at JavaPolis 2007 entitled "The Closures Controversy", where he critiques one of the leading proposals for adding closures to the Java language (BGGA, named as an acronym after its authors). The presentation is eye-opening, and it is thought-provoking to see two of Java's biggest lumunaries on opposite sides of the debate. Of course, Bloch himself is one of the authors of an alternative proposal for adding closures, CICE (Concise Instance Creation Expressions).
It's not Clarence Darrow in the "Scopes Monkey Trial", but it's the closest we programmers can get. I won't go into huge detail about the two proposals except to say that BGGA adds full support for functional types whereas CICE is a more concise way of expressing anonymous inner classes in Java (there are many places on the web to go into the details). The heart of the debate really boils down to Defensive Programming VS. (for lack of a better term) "Let the programmer do whatever he/she wants (and let the language support it)". The former position being more conservative and more pragmatic, the later a more libertarian view that experts (programmers) are smart and should be allowed to do whatever they want. Ironically, these two opposites are also embodied in many ways in differing philosophies in design between Java and its antecedent language, C++. Java was, after all, "C++ --", the language that made smart decisions to remove features from C++ that were considered dangerously error-prone: pointers, explicit memory deallocation, etc.
So clearly Bloch is in the defensive programming camp whereas Neal Gafter, the main proponent of BGGA, is on the other side. And, I have to admit, I am on Bloch's side as well, for many reasons.
BGGA is complex. Non-local returns, continues, and breaks have a great potential to confuse the average programmer. The syntax, when viewed in even moderately complex code, looks cryptic. Even if you get past the syntax and non-local oddities you have to acknowledge, as Bloch so eloquently pointed out, that new features tend to add somewhere between quadratic and exponential complexity to a language because of their interaction with existing features. This was the *gotcha* with generics, and I have no desire to see that repeated with closures.
Defensive programming is at the very heart of what Java is as a language. And, by and large, it is this philosophy which has made it so successful. Trying to make it into an "experts language", as C++ is, cuts against the grain of the spirit of the language. (As an aside, it is telling to note that Gafter himself was a member of the C++ Standards Committee.)
The Java camp is already losing programmers to newer languages like Ruby because it is "too complex". Do we really want to add more complexity to drive away more programmers from the language? Simplicity is beauty, and (as someone once said) the most important decisions in a language have to do with what features you should leave out.
There are already other languages that target the JVM (and hence at least theoretically can interact with existing Java code) which handle closures in a much more natural way: JRuby, Groovy, Scala. Static typing without type inference tends to make control structures like closures much more challenging, if not downright awkward. Both Ruby and Groovy are dynamically typed and Scala uses static type inference. Perhaps one of these languages is a more suitable vehicle for those who feel they really need closures.
Whatever the result of the debate, it is likely that closures in some form will land in the Java language in the not-too-distant future. Right now, BGGA seems to have the momentum, which is unfortunate. Neal Gafter may, in a very well-intentioned way, be leading Java down a path of bloated complexity from which it will never recover; and which will ultimately result in Java yielding its leading position to a new language that is far more agile.