Game of the Week - Deadly Neighbours
This week's game is an interesting twist on a turn based RPG game. The weapons in the game are part of what makes it fun. They range from pillows to an axe. So, have a great Friday and enjoy playing Deadly Neighbours.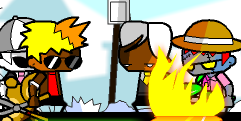 You can play the game here.