Introducing TubeSpy, the latest creation from Ajaxonomy Labs
You might have caught on to the fact that we here at Ajaxonomy appreciate the spy game. We are happy to announce a Beta version of TubeSpy, the latest addition to Ajaxonomy Labs. TubeSpy is a web based spy that allows you to see what videos are being watched on YouTube right now. YouTube has a widget like this on their homepage and TubeSpy was an effort to turn that widget into an app.
TubeSpy was built with jQuery, a fantastic JavaScript framework, the jQuery UI library for the tab controls, and of course, the YouTube API. Tested in IE6, IE7, and Firefox 2.

With TubeSpy you can:
see what others are watching
watch videos without leaving the page you're on
save videos as you see them scrolling
easily watch related videos
and more...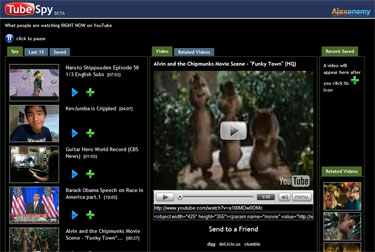 The more you use TubeSpy, the more interesting it becomes. Watching as videos scroll by creates a small, constantly shifting, window into the world. Visit TubeSpy after news breaks in the political world and you'll find some political videos, check it out after your favorite reality show airs for clips people have posted.
We hope you enjoy using the app and find some value in it. Feel free to post any feedback in the comments. Do keep in mind that this is a Beta release, and calling it a Beta release is a CYA (Cover Your Apps) measure to have an excuse in case a bug pops up in the app.