JavaScript Cheat Sheet
Tagged:
This one's an oldie, but a goodie. A few years ago the folks over at ilovejackdaniels.com put together a JavaScript Cheat Sheet that is designed to act as a reference sheet for JavaScript functions and methods.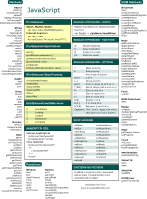 The reference material covers:
* Functions & Methods
* Regular Expressions
* XMLHttpRequest
* JavaScript in HTML
* and last but not least, Event Handlers
Click to download:
Their other cheat sheets include:
If you'd like to get your hands on even more cheat sheets, check out this post on menekali.com that lists a ton of them.
*update*
If you're looking for some UNIX & Perl Cheat Sheets, check out Peteris Krumins blog. Thanks Peteris!