Day Two Summary @ The Ajax Experience
Tagged:
The second day of The Ajax Experience is behind us and it was even better than the first. It all started off with a keynote by Brendan Eich as I described earlier. After that, I attended a session titled "Struts on Ajax: Retrofitting Struts with Ajax Taglibs" where my take-away was to not use Ajax Taglibs, ever. Then came the lightning rounds, which were a great way to get a wide variety of information in a short amount of time. After the lightning rounds, Microsoft had a keynote that covered Microsoft's JavaScript developer tools, namely Visual Studio 2008 and Visual Web Developer 2008. There was also talk of the new IE8 developer toolbar, which is a great big step in the right direction for Microsoft. Strangely, the developer toolbar will be shipped with all instances of IE8. It includes features like:
DOM & CSS inspection
Live Editing
JavaScript debugger and profiler
Multiple Document Modes
I really enjoyed Joe Walker's "Advanced Web Application Security" session, where he covered a variety of security issues and complete solutions to help increase security. This is another great session to view once the videos are posted online.
Next up I attended back-to-back sessions by John Resig on Advanced jQuery and Visual Programming with JavaScript. These were two of the best sessions of the entire conference. Clear and concise lectures, chalk full of practical solutions and answers to complex problems.
The last session of the day was the "Ask the Experts Panel", moderated by Ajaxian.com co-founders, Ben Galbraith & Dion Almaer, featuring Brendan Eich, Douglas Crockford, John Resig, Joe Walker and Dylan Schiemann. There was some great discussion on JavaScript engines, Browsers, HTML5, ECMAScript, and more...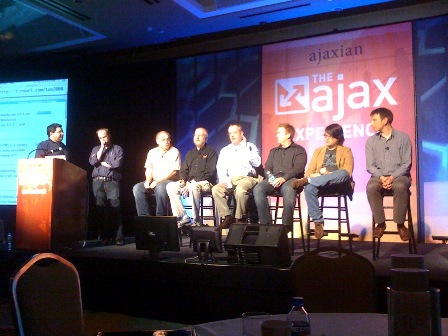 That's all for today! I'm looking forward to tomorrow for some more informative sessions.